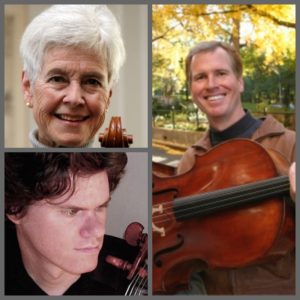 Sunday June 11, 4:00 PM: Cello Seminar Concert at Hubbard Hall
What could be better than an extended weekend spent with 12 cellists playing music of Bach/Gabrielli/Telemann, to cutting-edge contemporary unaccompanied, to Julius Eastman's stunning Holy Presence of Joan d'Arc (set to Dreyer's 1928 film with ten celli)? The plan is for performances at the New Skete Monastery and Salem Art Works, followed by a final performance on Sunday, June 11th at 4:00pm, when Music from Salem's Cello Seminar will perform a concert at Hubbard Hall in Cambridge NY. The Cello Seminar is an intensive weeklong seminar for young professionally bound cellists, led by Music from Salem Cello Seminar interim director Scott Kluksdahl as well as cellists David Russell and Helga Winold.
Welcome in the summer with this end-of-the-week cello-bration concert!
$15 Sugg. Ticket Price – Pay what you can – all are welcome!