Upcoming Events
Mid-Summer Mardi Gras
Benefit Gala
For a list of Benefit Buys please click on this link: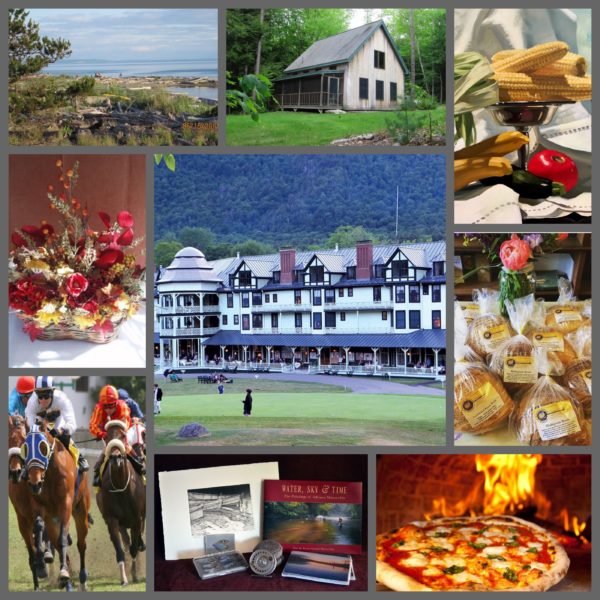 Friday July 14th 2017
6pm
At the lovely home of Christa Caron
105 McKie Hollow Rd., Cambridge, NY
Dinner, music, benefit buys,
and lots of fun
$75/person – $400/table for 6
Table reservation deadline July 10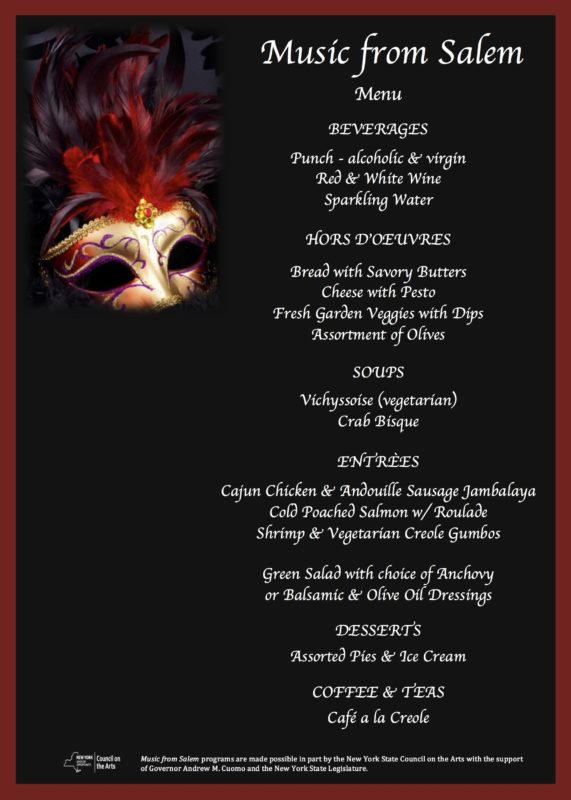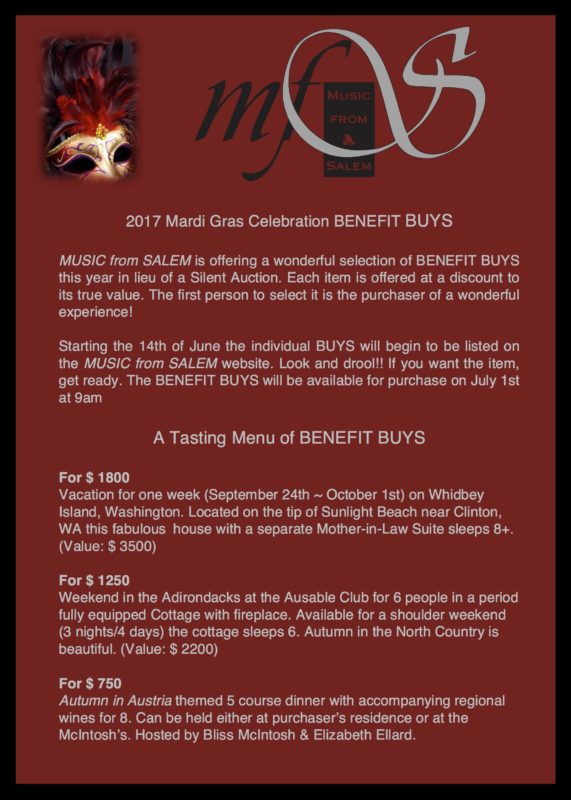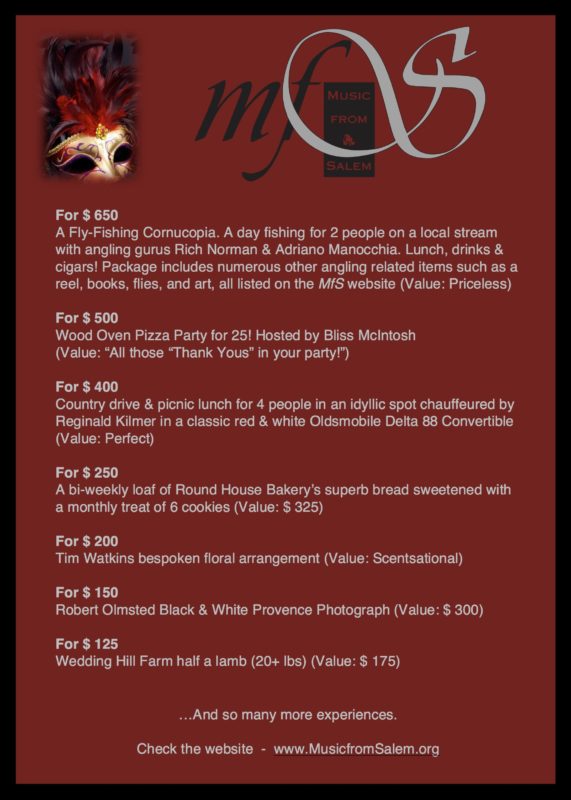 PAST EVENTS
Friday February 3rd 2017
Music from Salem "Heart of Winter" Party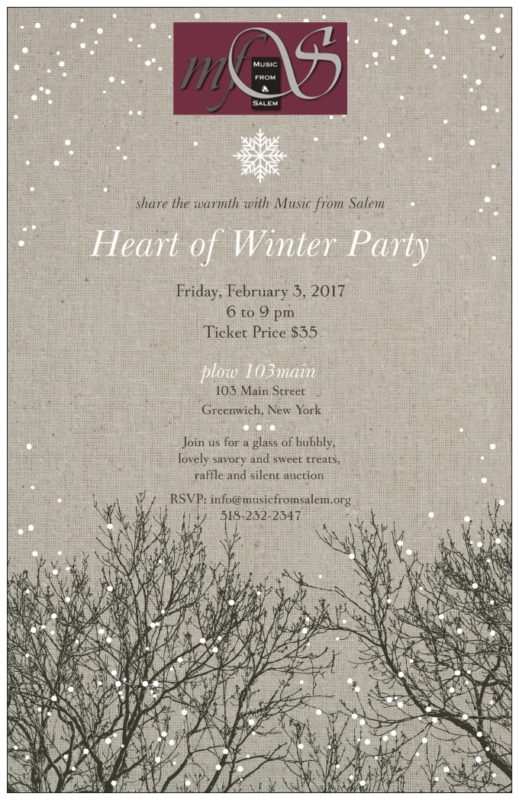 "Célébrez le Jour de la Bastille en Proven
2016 Summer B
enefit Gala
Thank you for your continued support
Photo Credit Andrew Ciccarelli
Commemorating France's Independence Day and its historic friendship with the United States the 2016 Gala featured a fun evening of French inspired food, culture, and musical entertainment! Highlights this year included a very special performance by Music from Salem musicians, a silent auction, and an exclusive dinner with open bar. The diverse silent auction offerings ranged from restaurant gift certificates to objects d'art to personal services. This elegant evening transported attendees to the quaint beauty of the Provence countryside for a celebration of Liberté, Égalité and Fraternité.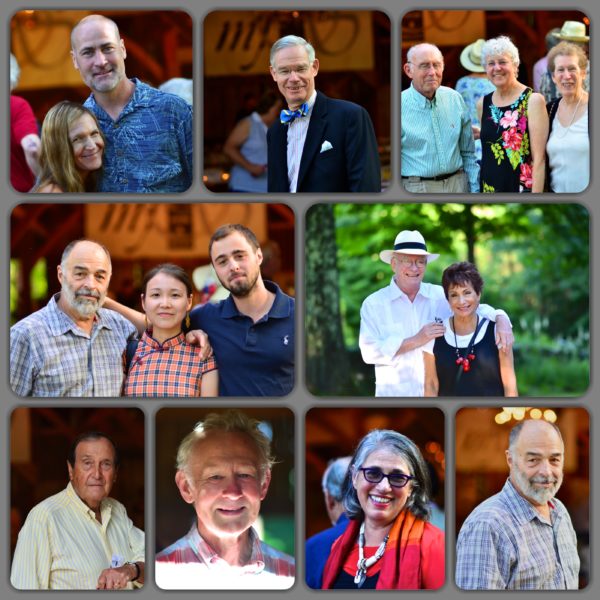 Music from Salem "Heart of Winter" Party
When the weather outside is frightful, come inside and warm your hearts with music and conviviality at Music from Salem's Heart of Winter Party. On Friday, February 5, 2016, from 7 to 10 p.m., Music from Salem will host a Heart of Winter Party, an evening of music and fun, with Music from Salem artistic director and violist Lila Brown playing selections from Bach and Hindemith. Enjoy excellent refreshments, a glass of prosecco, and the opportunity to bid on romantic dinners at various local restaurants. Bring your sweetheart, your best friend or just come alone to celebrate love and music at this fundraiser for Music from Salem.
The February 5 Heart of Winter Party celebrates the start of MfS's 30th season. It will take place from 7 to 10 p.m. at "plow103main", 103 Main St., Greenwich NY 12834. The $30/person entrance fee entitles you to food, musical entertainment, and all the celebration you can handle. RSVP: info@musicfromsalem.org or 518-232-2347.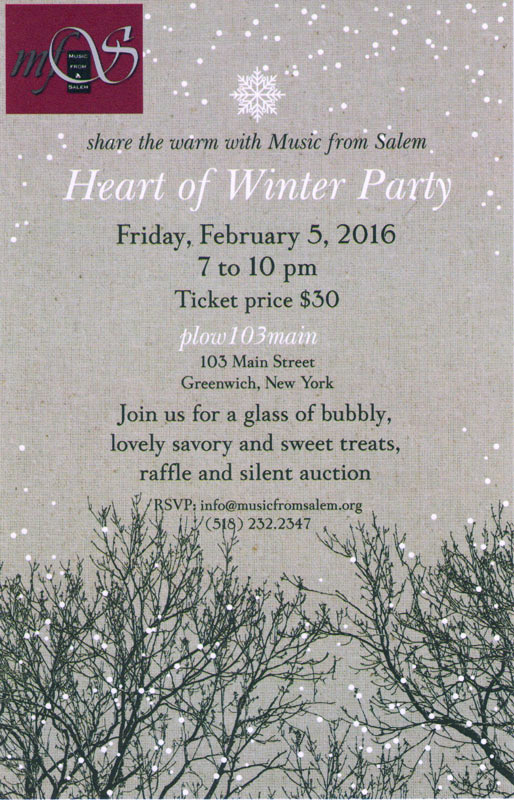 "Those Roaring Twenties"
2015 Summer Benefit Gala
Thank you for making this event a memorable one…
Photo Credit Andrew Ciccarelli