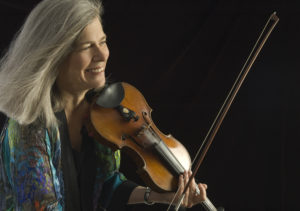 Judith Eissenberg, violin is a founding member of the Naumburg Award-winning Lydian String Quartet (lydianquartet.com), and is Professor of the Practice at Brandeis University. In addition to her position in the Music Department at Brandeis University she is Chamber Music Coordinator at The Boston Conservatory. With the Lydian String Quartet, she recently returned from concerts in Taiwan, and continues to tour throughout the US and abroad. The quartet has made numerous recordings with New World Records, Centaur, Music Omnia, Nonesuch, CRI, Neuma and others. She has received top prizes in the Banff, Evian and Portsmouth International String Quartet Competitions, grants and awards for commissioning, performance, recording and programming including two Grammy nominations. With an expertise in both modern and period violin, she has a commitment to the full range of the chamber music literature, premiering new works by established composers as well as performing standard repertoire. As a member of the Lydian String Quartet Ms., Eissenberg has long championed the works of living composers; 2017 marks the third Lydian String Quartet Commission Prize. The goal of this international prize is to encourage creativity and enhance the string quartet literature at the highest level of composition.
Ms. Eissenberg is a co-founder of Music From Salem, a chamber music festival in upstate NY. During the summer months, she has been on the faculty at festivals throughout the US, including the Bennington Chamber Music Conference, the Token Creek Chamber Music Festival, the Norfolk Chamber Music Festival and others. In Boston, she has performed with the Boston Chamber Music Society, the Boston Conservatory Players, Emmanuel Music, and has been a core member and soloist with Boston Baroque and the Handel and Haydn Society.
Along with her work as a performer, Ms. Eissenberg has a commitment to education and cultural work in the arts. At Brandeis University, she founded and directs the residency and concert series program MusicUnitesUS which brings to campus artists of high accomplishment from around the world. The mission of MUUS is to deepen understanding and appreciation of diverse cultures through music. She teaches the World Music course at Brandeis as well as chamber music.