2017 Concerts Schedule
programs subject to change
Sunday April 9, 2017 – Spring Concert – 4pm @ Hubbard Hall
Sunday, June 4, 2017 – Viola/Violin Seminar Concert – 4pm @ Hubbard Hall
Sunday, June, 11 2017 – Cello Seminar Concert – 4pm @ Hubbard Hall
Sunday July 9, 2017 – the wonder that's keeping the stars apart – 4 pm @ Hubbard Hall
Sunday, July 23, 2017 – out of old mythologies – 4pm @ Hubbard Hall
Sunday, July 30, 2017 – whatever a moon has always meant – 4pm @ Hubbard Hall
Sunday, August 13, 2017 – whatever a sun will always sing – 4pm @ Hubbard Hall
2017 Season Chamber Music Brochure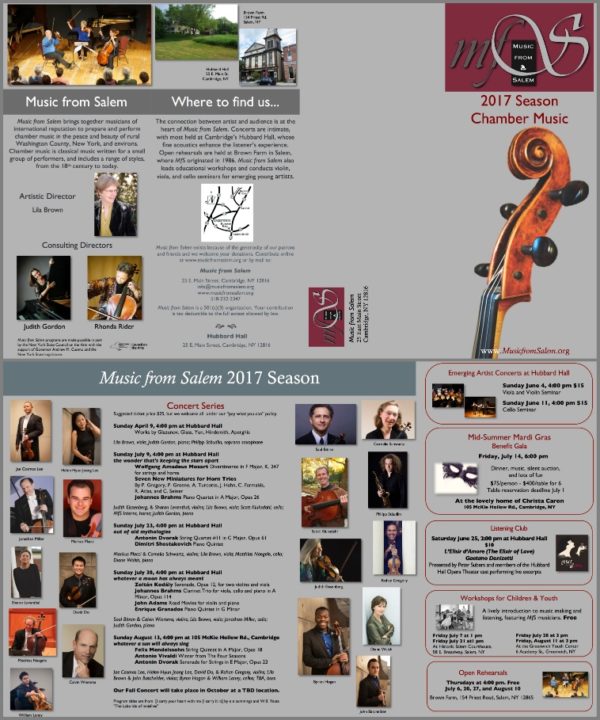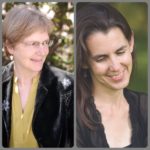 Music from Salem Spring Concert
Works by Glazunov, Glass, Yun, Hindemith, Aperghis
On Sun April 9th at 4 pm, a beautiful and fascinating afternoon of music for viola and piano and solo piano Hubbard Hall will feature the romantic Fantasy Sonata by Paul Hindemith, very much influenced by Brahms.
The performers are Music from Salem directors, Lila Brown and Judith Gordon. Two unusual pieces on this program are Phillip Glass's mesmerizing 15 minute work, Mad Rush, for solo piano, and Isang Yun's Duo for viola and piano. Though Yun, who tried to make cultural contact with North Korea, was sentenced to death by the South Korean Secret Service, and was given asylum in Germany, his virtuosic music is not discordant, but gentle and delicate, using infinitely varied permutations reflecting the natural world. The program opens with the melting melodies of Glazunov's Elegy for viola and piano. Besides a busy performance schedule, Gordon is a professor of piano at Smith College, and Brown teaches at the Boston Conservatory and the North Carolina School of the Arts
Lila Brown, viola; Judith Gordon, piano
Sunday June 11, 4:00 PM: Cello Seminar Concert at Hubbard Hall
What could be better than an extended weekend spent with 12 cellists playing music of Bach/Gabrielli/Telemann, to cutting-edge contemporary unaccompanied, to Julius Eastman's stunning Holy Presence of Joan d'Arc (set to Dreyer's 1928 film with ten celli)? The plan is for performances at the New Skete Monastery and Salem Art Works, followed by a final performance on Sunday, June 11th at 4:00pm, when Music from Salem's Cello Seminar will perform a concert at Hubbard Hall in Cambridge NY. The Cello Seminar is an intensive weeklong seminar for young professionally bound cellists, led by Music from Salem Cello Seminar interim director Scott Kluksdahl as well as cellists David Russell and Helga Winold.
Welcome in the summer with this end-of-the-week cello-bration concert!
$15 Sugg. Ticket Price – Pay what you can – all are welcome!
Sunday June 4, 4:00 PM: Viola & Violin Seminar Concert at Hubbard Hall
Music from Salem's Viola & Violin Seminar participants and faculty will perform a concert at Hubbard Hall located at 25 E. Main Street, Cambridge, NY.
Eleven professionally bound students from California, Virginia, NY, North Carolina, China, Costa Rica and Peru share their excitement in presenting what they have learned at the weeklong
Music from Salem
viola and violin seminar at the Brown farm led by
Music from Salem
Artistic Director
Lila Brown
, viola,
Sharan Leventhal
, violin, and
Mark Ryser
, piano. After a week of collaboration with piano on repertoire from all periods, students and faculty will perform selections from sonatas and chamber music by Brahms, Ravel, Beethoven, Fauré, Britten, Schumann, Martinu, WF Bach, and others, with three minute get-to-know-you introductions about themselves and their pieces..
$15 is our suggested ticket price, but Pay What You Can is our policy – all are welcome!
Sunday, July 9, at 4:00 PM: Music from Salem Concert at Hubbard Hall
Wolfgang Amadeus Mozart Divertimento No. 15 for two horns and strings in B-flat major, Lodron Serenade No. 2, K. 277 [1777]
Seven New Miniatures for Horn Trio By P. Gregory, P. Greene, A. Turcotte, J. Hahn, C. Farmakis, Atlas, and C. Seiner
Johannes Brahms Piano Quartet in A Major, Opus 26
The program opens with a magnificent Mozart divertimento that's as rich as a violin concerto. It includes two wonderful horns, played by Eli Epstein, former Cleveland Orchestra member and New England Conservatory student, and Jennifer Robbins. Then, MfS performs seven competition-winning miniature horn trios from all over the world; they were chosen from 130 entries. The program concludes with Brahms' grand piano Quartet in A Major.
Judith Eissenberg, Sharan Leventhal, violins; Lila Brown, viola; Scott Kluksdahl, cello; Eli Epstein & Jennifer Robbins, horns; Nathan Varga, bass; Judith Gordon, piano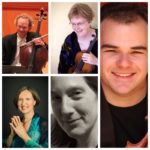 Sunday, July 23, 4:00 PM: Music from Salem Concert at Hubbard Hall
Antonin Dvorak String Quartet #11 in C Major, Opus 61
Dimitri Shostakovich Piano Quintet
Markus Placci & Cornelia Schwartz, violins; Lila Brown, viola; Matthias Naegele, cello; Diane Walsh, piano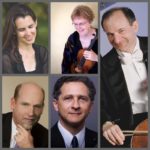 Sunday July 30, at 4:00 PM: Music from Salem Concert at Hubbard Hall
Zoltán Kodály Serenade, Opus 12, for two violins and viola
Johannes Brahms Clarinet Trio for viola, cello and piano in A Minor, Opus 114
John Adams Road Movies for violin and piano
Enrique Granados Piano Quintet in G Minor
Saul Bitran and Calvin Wiersma, violins; Lila Brown, viola; Jonathan Miller, cello; Judith Gordon, piano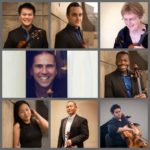 Sunday, August 13, 4:00 PM: Music from Salem Concert
at 105 McKie Hollow Rd., Cambridge
Program
Felix Mendelssohn (1809-1847)
String Quintet No. 1 in A Major, Op. 18
Allegro con moto
Intermezzo: Andante sostenuto
Scherzo: Allegro di molto
Allegro vivace
Curtis K. Hughes (b. 1974)
merger (for two cellos)
Intermission
Antonio Vivaldi (1678-1741)
"Winter" from The Four Seasons
Allegro non molto
Largo
Allegro
Antonín Dvořák (1841-1904)
Serenade for Strings in E Major, Op. 22
Moderato
Tempo di Valse
Scherzo
Larghetto
Finale
Jae Cosmos Lee, Helen Hyun Jeong Lee, David Do, & Rohan Gregory, violins; Lila Brown & John Batchelder, violas; Byron Hogan & William Laney, cellos; Nathan Varga, double bass; Alfred Fedak, harpsichord
Most concerts take place at:
Hubbard Hall
25 East Main Street
Cambridge, NY 12816
www.hubbardhall.org
Hubbard Hall Concert Admission: Pay what you can – all are welcome! (Suggested amount: $25)