2018 Concerts Schedule
programs subject to change
Sunday April 8, 2018 – Spring Concert – 4pm @ Hubbard Hall
Sunday, June 3, 2018 – Viola/Violin Seminar Concert – 4pm @ Hubbard Hall
Sunday, June, 10 2018 – Cello Seminar Concert – 4pm @ Hubbard Hall
Sunday July 8, 2018 – Concert – 4 pm @ Hubbard Hall
Thursday July 5, 2018 – Open Rehearsal for July 8 concert – 4 pm @ Brown Farm
Sunday, July 22, 2018 – concert – 4pm @ Hubbard Hall
Thursday July 19, 2018 – Open Rehearsal for July 22 concert – 4 pm @ Brown Farm
Sunday, July 29, 2018 – Concert – 4pm @ Hubbard Hall
Thursday July 26, 2018 – Open Rehearsal for July 29 concert – 4 pm @ Brown Farm
Sunday, August 12, 2018 – Concert – 4pm @ Hubbard Hall
Thursday August 9, 2018 – Open Rehearsal for August 12 concert – 4 pm @ Brown Farm
Sunday October, 2018 Fall 2018 Concert – 4pm at Hubbard Hall
2018 Season Chamber Music Brochure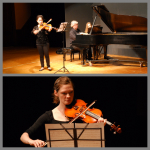 Sunday June 4, 4:00 PM: Viola & Violin Seminar Concert at Hubbard Hall
Music from Salem's Viola & Violin Seminar participants and faculty will perform a concert at Hubbard Hall located at 25 E. Main Street, Cambridge, NY.
Eleven professionally bound students from California, Virginia, NY, North Carolina, China, Costa Rica and Peru share their excitement in presenting what they have learned at the weeklong
Music from Salem
viola and violin seminar at the Brown farm led by
Music from Salem
Artistic Director
Lila Brown
, viola,
Sharan Leventhal
, violin, and
Mark Ryser
, piano. After a week of collaboration with piano on repertoire from all periods, students and faculty will perform selections from sonatas and chamber music by Brahms, Ravel, Beethoven, Fauré, Britten, Schumann, Martinu, WF Bach, and others, with three minute get-to-know-you introductions about themselves and their pieces..
$15 is our suggested ticket price, but Pay What You Can is our policy – all are welcome!
Most concerts take place at:
Hubbard Hall
25 East Main Street
Cambridge, NY 12816
www.hubbardhall.org
Hubbard Hall Concert Admission: Pay what you can – all are welcome! (Suggested amount: $25)