the cello seminar
Music From Salem
the Brown Farm
154 Priest Road,
Salem, New York
June 5-11, 2017
Cello Seminar concert
Sunday June 11, 4:00 PM: Cello Seminar concert at Hubbard Hall
Faculty
*Rhonda Rider, cellist (Triple Helix; faculty, The Boston Conservatory)
*Judith Gordon, pianist (faculty, Smith College)
Scott Kluksdahl, cellist (faculty, University of South Florida)
David Russell, cellist (faculty, Wellesley College; Firebird Ensemble; Furious Band)
Helga Winold, cellist (faculty, University of South Florida; faculty emerita, Indiana University)
(* on leave during the 2017 session)
The Cello Seminar is designed to explore music written for the cello by twentieth and twenty-first century composers. The wide range of repertoire, from classics to works on the cutting edge, will include pieces by such composers as Carter, Hyla, Harvey, Mackey, Jolas, Webern, Harbison and Tower. Works for solo cello and cello ensemble will be performed at the end of the week in Hubbard Hall, a beautifully restored 19th-Century Vaudeville Hall in Cambridge, New York. Located at the Brown Farm in rural New York, the seminar is open to young professional and professionally-bound cellists.
For a list of suggested repertoire please contact: Scott Kluksdahl
E-mail: Snkluksdahl@aol.com
---
Daily Schedule
The daily schedule will consist of open lessons, rehearsals and master classes. Topics will include contemporary techniques and score analysis from the performer's perspective, exploration of the tonal and technical range of the instrument, as well as some basics to cello playing such as bow control, ease and security in shifting and practice techniques. Discussions will cover such topics as making a living as a cellist, orchestra auditions, the ins and outs of chamber music groups and programming contemporary music. Participants will prepare approved solo and ensemble repertoire as well as brief introductory talks for a public performance in Hubbard Hall. Participants will be encouraged to take risks, extending their techniques and broaden their concepts. Cellists will focus on one contemporary unaccompanied work of their choice, one early work (J.S. Bach Suite, Domenico Gabrielli Ricercar, or Telemann Solo Fantasia) of their choice, and Julius Eastman's Holy Presence of Joan d'Arc for ten celli and silent film (Joan of Arc, Dreyer 1928).
The Cello Seminar Fees: $750 for tuition, room (double occupancy) and board at the Brown Farm. Some scholarship is available. The Brown Farm offers a vegetarian cuisine prepared from locally grown produce.
For a list of suggested repertoire please contact: Scott Kluksdahl
E-mail: Snkluksdahl@aol.com
photos © Susan Alancraig
---
The Faculty
Rhonda Rider (cello) is a founding member of the Naumburg Award winning Lydian Quartet, with whom she played for over twenty years, and is currently a member of the piano trio Triple Helix. She has performed at the Kennedy Center, Lincoln Center, Wigmore Hall, Los Angeles County Museum of Art, Symphony Space, and the Library of Congress. Rider was featured artist of the Robert Helps Festival of Contemporary Music (Florida), Emmanuel Music's Bach and Schumann Series (Boston), and as guest artist with Boston Chamber Music Society and St. Paul Chamber Orchestra Chamber Music Series. Rider was named 2010-2011 Artist-in-Residence at Grand Canyon National Park. Eleven solo cello pieces were commissioned for her residency. During the summer, she is heard at ARIA and the Green Mountain Festivals, as cello coach for the Asian Youth Orchestra in Hong Kong, and most happily at Music from Salem. Rider is Chair of Chamber Music and on the cello faculty of The Boston Conservatory.
Judith Gordon (piano) gave her New York recital debut at the Metropolitan Museum of Art's Introductions series in 1990, and was the Boston Globe 1997 Musician of the Year. With ensembles including the Boston Pops, St. Paul Chamber Orchestra, Collage New Music, and Boston Modern Orchestra Project, she has explored repertory from Beethoven, Schumann, and Rachmaninoff to Berg, Cage, and Boulez. She also enjoys an exceptionally varied diet of duo-recitals and chamber music every season with a wide range of singers and instrumentalists. Composers with whom she has collaborated closely in recent years are John Harbison, Lee Hyla, Peter Lieberson, and James Matheson. Gordon regularly performs and teaches at festivals such as Bennington, Apple Hill, Charlottesville, and Music from Salem (NY) where she is a consulting director. She has taught piano and chamber music at Smith College since 2006.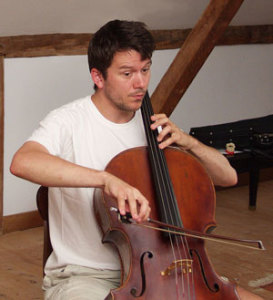 Scott Kluksdahl (cello) made his debut with the San Francisco Symphony, and performed throughout the United States, Europe, Israel, and Central and South America. A founding member of the Lions Gate Trio, he performed and recorded for twenty years with the ensemble, and has recorded for CRI, Albany, Triton and Centaur. He has had significant affiliations with the music of Robert Helps, Richard Wernick, Richard Brodhead, David Del Tredici and Augusta Read Thomas. Kluksdahl performed the premiere of Philip Lasser's Vocalise for Cello and Orchestra with the Boston Pops at Symphony Hall, and is excited by the recent release of his CD "Shelter" on the Pierian label with soprano Mela Dailey in works by C-20/C-21 composers Andre Previn, John Tavener, Robert Honstein, Jake Heggie and Sergei Rachmaninoff. He has well-established musical partnerships with pianist Noreen Cassidy-Polera, violist Carol Rodland, and is founder and artistic director of the Robert Helps Festival of Contemporary Music. Most recently he joined the award-winning Veronika String Quartet. Kluksdahl received Tanglewood's Leonard Bernstein Fellowship, prizes at the Naumburg and Washington International Competitions, and degrees from Harvard and Juilliard. He teaches cello at University of South Florida, and tutors science/math/reading for fifth-grade students in Florida's Hillsborough County Public School System. Inspired by the Rochester-based initiative, Kluksdahl serves as Tampa's artistic director for the recently established food-for-music outreach concert series "If Music Be The Food….." at the Carrollwood Cultural Center.
David Russell (cello) maintains a vigorous schedule in this country and abroad as both soloist and collaborator. He is especially active in the Boston area, regularly featured in concerts of ensembles such as Pro Arte Chamber Orchestra, New England String Ensemble, Cantata Singers, Emmanuel Music and, from 2006-2011, Opera Boston, where he was principal cello. A strong advocate for new music, Russell performs with with groups including Boston Modern Orchestra Project, Firebird Ensemble, Music on the Edge, Dinosaur Annex, and the Fromm Players at Harvard. Among his recent projects are recordings of works by Eric Moe, Lee Hyla, Tamar Diesendruck, Chen Yi and Roger Zahab, premieres of Laurie San Martin's Cello Concerto with the Fort Worth Symphony, Eric Moe's "Mud Wrestling at the O.K. Corral" for cello and piano and works for solo cello by Andrew Rindfleisch, Sam Nichols and John Mallia. Recordings on Tzadik, Centaur, CRI, Albany Records and New World Records. In 2005 he joined the faculty of Wellesley College, where he currently serves as Director of Chamber Music.
Helga Ulsamer Winold (cello) has played solo and chamber music recitals in many of the leading music centers of the United States, Europe, and Asian. Highlights of her performing career include performances as soloist with the Munich Philharmonic and other orchestras, presentations of the complete Beethoven cycle of works for cello and piano in Vienna and other cities, and numerous performances of contemporary works for cello. As a teacher, Helga Ulsamer Winold, has had an enormously successful career working with students at all levels from gifted younger players to experienced professional musicians. Many of her students have gone on to important performing positions in professional orchestras such as the Los Angeles Philharmonic, the Philadelphia Orchestra, the Houston Symphony, the Pittsburg Symphony, the Stuttgart Chamber Orchestra and the Bavarian State. Other former students have gone on to significant teaching positions such as the University of Pennsylvania, the National Conservatory of Taipei, the Freiburg Hochschule für Musik, and Indiana University. She has presented highly successful master classes in such places as Alberta, Canada; Brigham Young University; the University of Denver; the University of Kentucky; Colorado State University; University of Wyoming; Hochschule für Musik, Frankfurt; Hochschule für Musik, Freiburg; Hochschule für Musik, Karlsruhe; Villa Musica, Mainz; National Conservatory, Taipei; and the Richard Strauss Konservatorium, München. She taught for decades at Indiana University Jacobs School of Music, and currently is on the faculty of the University of South Florida and University of Tampa